Buddycom Supports Deskless Workers Remotely by Improving Communication with Live Video, Windows PC version of Multiview for real-time voice calls with simultaneous video viewing
A Windows PC version of Buddycom with enhanced live video communication and Multiview is now available from Science Arts, Inc.
・Buddycom is an application that optimizes calling and chatting in the field. It can be used instead of a radio, a walkie-talkie or an intercom.
・The Windows PC version allows viewing and accessing multiple sites in real time using multiviews.
・Automatic video and audio storage. Calls are converted to text for later download for reports, etc.
Buddycom has a feature called Livecast which allows you to talk in real time and share video. Normally, when using a smartphone to watch a live cast, you can only view the video of one group participating in the live cast, but Buddycom for Windows PC, which is now available to the general public, has a multi-view feature with a group window that allows you to talk while watching the video of up to 15 groups. (Depending on your computer's performance and the network bandwidth you are using, the number of groups that can be displayed may vary.)
With the Windows PC version, not only can you view live broadcasts, but you can also view chat and map screens in a group window. Calls are converted to text for later download. Videos and audio are automatically stored in the cloud for secondary use, such as reporting.
For instance, links can be established from headquarter offices or control centers to a group of air, railway, bus, and taxi operators monitoring the status of operations and maintenance, or from the control center to a security company's security officers in the field. Buddycom makes it easy for security companies to connect to their field staff with the Windows PC version of Buddycom.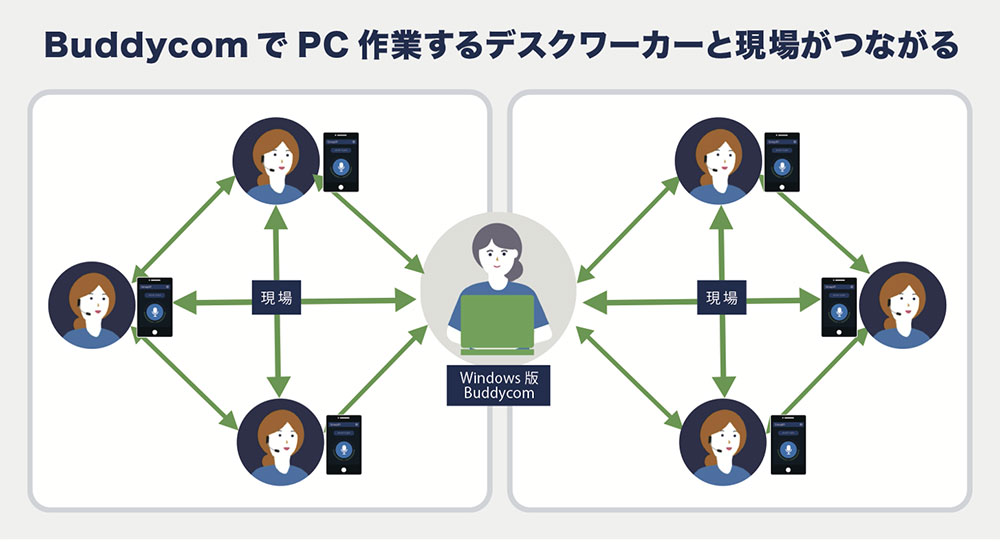 [Windows PC Features]
1. Multiple group windows (up to 15 groups*) can be displayed side by side in a multi-view.
The Group Window feature in the Windows PC version of Buddycom allows multiple groups to be displayed side-by-side on the screen, allowing multiple Buddycom smartphone versions to be used as one.
Windows PC version users can alternate between the tabs displayed for each group to monitor the work status of multiple field employees at once.
※May vary depending on the performance of the computer and the network bandwidth being used.
About Group Windows
There are four tabs in the group window:
(1) Members: displays a list of the members of the group.
(2) Chat: view and playback history and send text/images.
(3) Live: live casting allows Video Relay + group calling.
(4) Maps: allows you to view and navigate using maps.
2. Call the desired group from the listed groups with a single click, without switching groups.
Unlike mobile phones and tablets, Buddycom for Windows PC displays a list of groups with call keys, so users can select the group to call and talk to with a single click without having to switch groups. This is useful, for example, for a manager who manages multiple workgroups in an office and selects the group to give instructions to each time he wants to speak.
Buddycom's Windows PC version offers all the functionality of a smartphone while maintaining the same level of security. All four Buddycom plans include this standard feature. We remain focused on serving our customers and continuing to innovate across all industries and sectors.