Buddycom's Speech-to-text Dictionary Registration Now Available for Accurate Technical Words Transmission.
We are pleased to announce that Science Arts, Inc. has added Dictionary Registration to its Buddycom speech-to-text feature. Even in the field where technical terms are used, This enables accurate texting and reliable communication.
・Buddycom is an app used in many fields as upward compatible with intercom and transceiver
・Buddycom prevents incorrect conversions of spoken content into text with its dictionary registration feature.
・Speech-to-text and dictionary registration functions use AmiVoice, a speech recognition engine provided by the API service.
Buddycom helps you create reports and Minutes with a convenient speech-to-text function by confirming what was 'said or not said' in the field. However, the accuracy of recognition depends on the engine used. While there are various technical terms and phrases depending on the industry and locations, there has been a problem of accuracy in textualizing words.
Buddycom now offers the ability to register dictionaries using the speech recognition API engine provided by Advanced Media, Inc.'s 'AmiVoice Cloud Platform', a voice recognition development platform. (Head Office: Toshima Ward, Tokyo; Chairman and President, Kiyoyuki Suzuki), responding to requests from many customers' needs for registering words. This improves accuracy and allows terms that were difficult to recognize, such as industry and in-house terms, to be translated. The dictionary registration feature is available with the Talk Enterprise plan and the Livecast Enterprise plan.
For example, railroad customers can enter station names in correct Chinese characters into the dictionary, and medical and nursing professionals can register technical terms such as symptoms and other terms as well as registration of frequently used words that need to be translated accurately. This is one of the benefits of Buddycom's speech-to-text conversion, as it reduces the stress of displaying incorrect conversions in scenarios that 'can always be reviewed later'.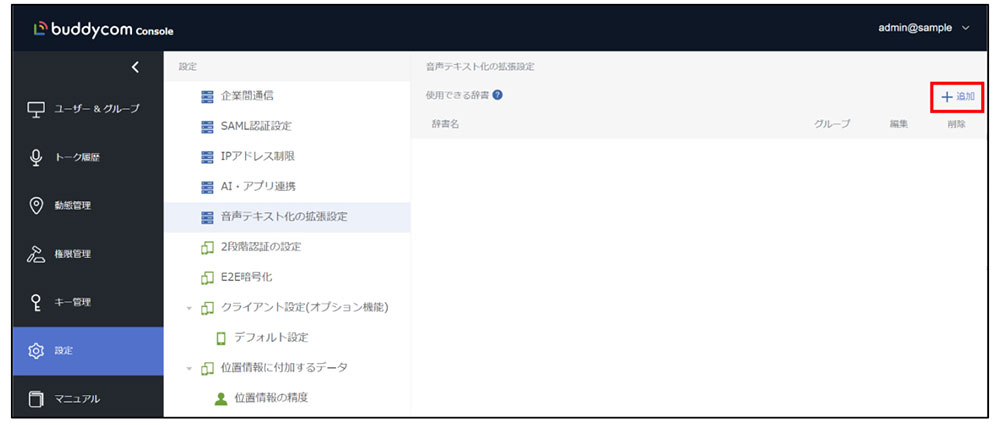 Advanced Speech-to-text Dictionary Registration Available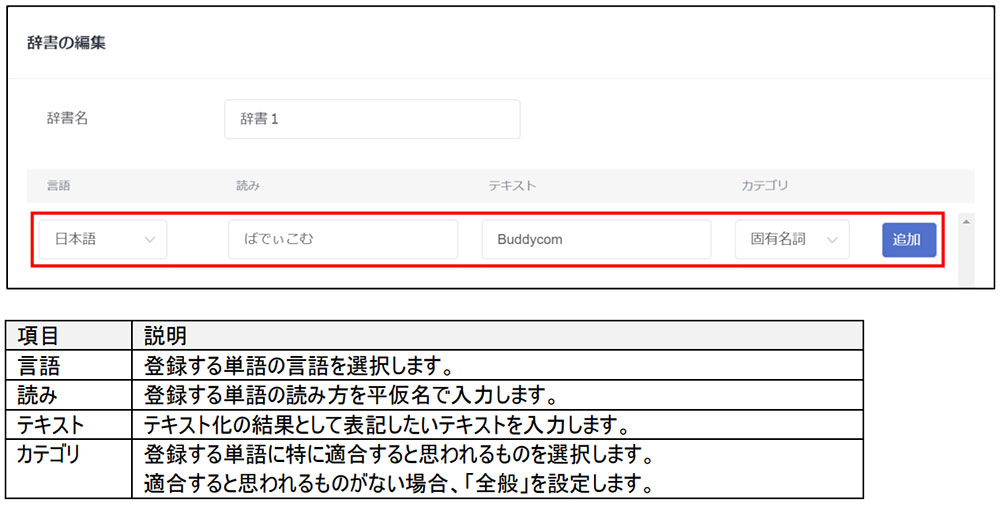 Immediate Response as Soon as Data is Entered
■ Future Development
Regardless of industry or sector, Buddycom is used by many customers as a horizontal market.
We will continue to promote on-site DX in all industries by listening to our customers and developing vertical development tailored to each site's needs and usage, such as developing the dictionary word registration function.