Buddycom Partners with Dropbox to Focus on the Construction Industry Using On-site Video and Audio to Promote DX On-site.
Science Arts, Inc. announces the integration of Buddycom and Dropbox, an online storage service.
Much of the real-time communication in the field, such as on construction sites, was done through phones and walkie-talkies. In many cases, data from such conversations is needed, for example, when writing a daily report or when reviewing the content of conversations at a later date, but it is difficult to record the content of conversations with telephones or walkie-talkies. In the past, we had to rely on notes as a reminder.
Buddycom is a service that enables real-time voice communication and real-time video delivery that is not possible using phones or walkie-talkies. We may also have this information on file for secondary use.
The integration with Dropbox allows Buddycom interactions to be imported directly and automatically into Dropbox, reducing the burden on front-line employees and speeding up the exchange of information between work sites.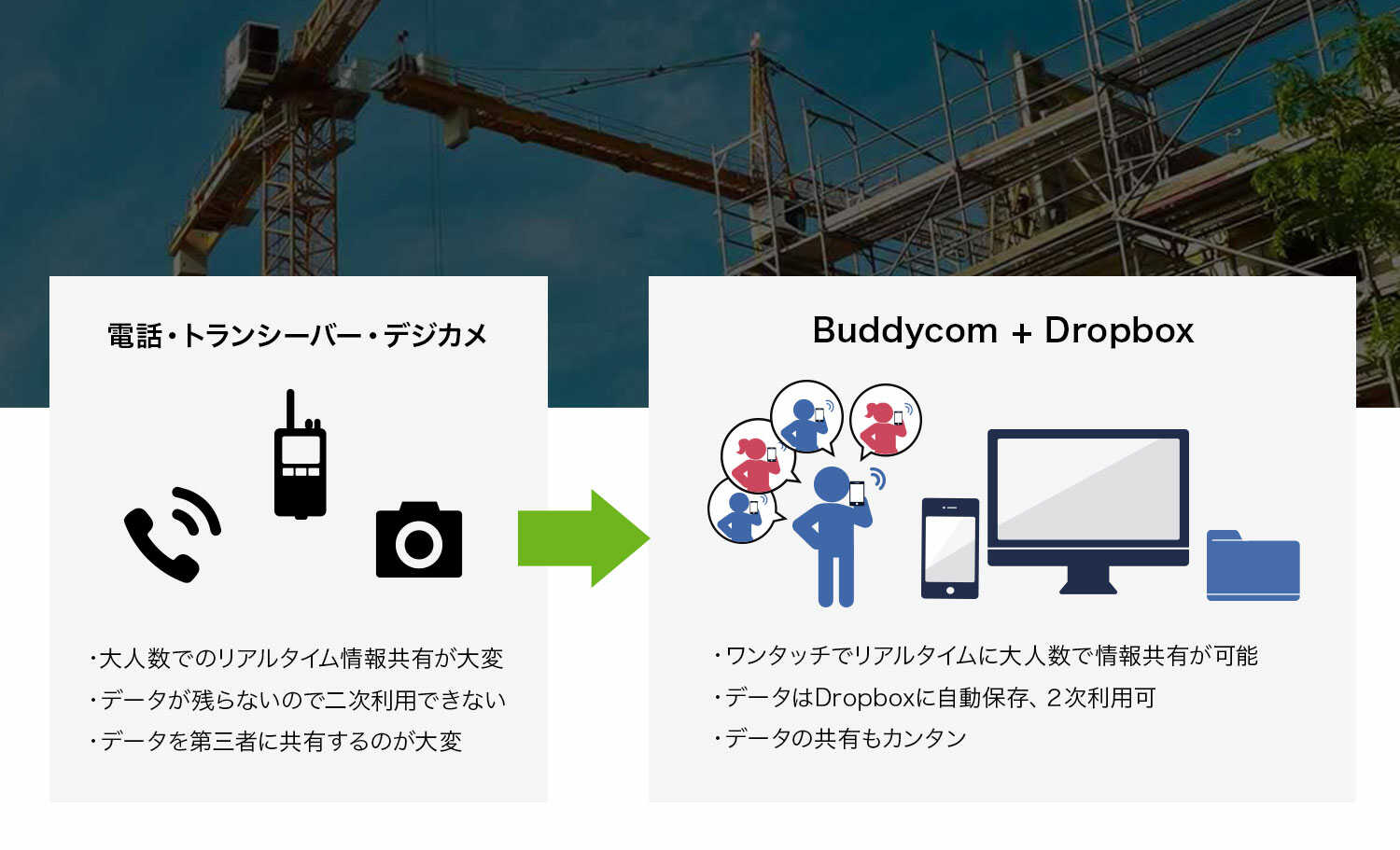 Key Features
1. The raw data exchanged on Buddycom can be stored in Dropbox for use by both parties. All the information can be managed in one place in Dropbox. Buddycom playback is still available.
2. The interactions of the Buddycom groups and sites are linked to the Dropbox folder so that you can see the interactions of each group.
3. Dropbox's shared links make it easy to share video footage, images, audio, and text from the field.
[Endorsement]
We are pleased to announce that Dropbox Business and Buddycom have successfully completed the integration of their respective products.
Dropbox Japan is deepening the integration of its technology with a wide range of products in the domestic market. We are confident that our joint customers will enjoy a more secure and convenient collaboration environment by working together with IP wireless services, which are supported by many people in the field. More and more customers are using Dropbox Business for flexibility in the midst of the recent pandemic. Our goal is to be an environment where customers can experience the benefits of convenience and productivity improvements.
Dropbox Japan
General Manager, Partner Business Division