Accelerating Seamless Communications with Buddycom in Partnership with Cisco
Science Arts, Inc.'s Buddycom has been certified by Cisco Systems G.K. a Solution Partner Program. We are pleased to announce that we have begun working with the Cisco Meraki and Cisco Webex Teams. This is the first step in this collaboration.
In order to provide a wider range of high-quality communication solutions, Science Arts and Cisco have validated the compatibility of their respective product lines. For seamless communication and convenience, Cisco Meraki, Cisco's cloud-managed wireless access point, maximizes Buddycom's performance over Wi-Fi.
In addition, the company also began working with the Cisco WebEx teams, which is a team collaboration tool provided by Cisco. By pressing the PTT (push talk) button on the Buddycom app screen or using a peripheral device such as a microphone speaker, the content can be transcribed and shared in real time with the Cisco Webex Teams channel. This further enhances and streamlines business communications in the field.
[What Buddycom and Cisco Meraki Can Do]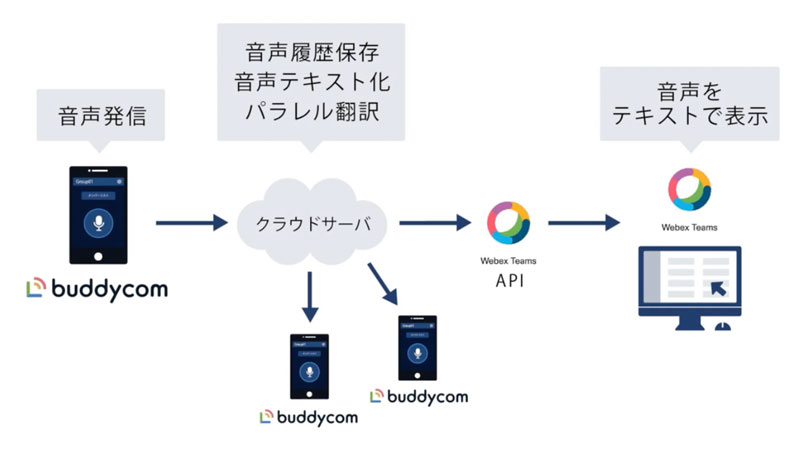 Fast roaming for seamless communication with your Buddycom over Wi-Fi.
[What Buddycom and Cisco Webex Teams Can Do]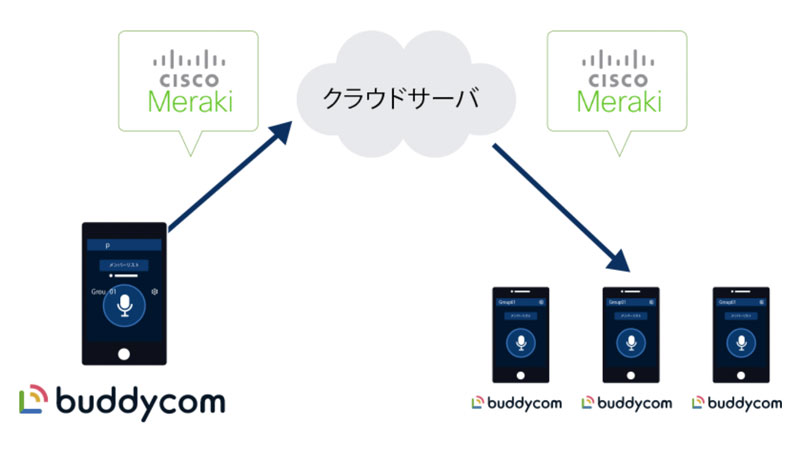 ・Reduce the burden of waiting for reports and requests from headquarters to keep track of conversations in the field in real time.
・The situation is reported by voice, not text.
・The translation function supports up to 14 languages. Foreign statements are also automatically translated into Japanese and displayed.
By integrating with Cisco Meraki and Cisco Webex Teams, Buddycom has further expanded its use in the business. Science Arts used DevNet, an engineering community established by Cisco, as the technical community for this collaboration. Buddycom is also featured on the DevNet case study page, and Science Arts will continue to work with Cisco on the global development of Buddycom, the future of team communications.
[Comment from Yuji Onaka, Managing Director / Japan Partner Organization, Cisco Systems G.K.]
We welcome the announcement that Science Arts' Buddycom has been certified in the Cisco Solution Partner Program. By combining Cisco's Wi-Fi and collaboration technologies with Buddycom's solutions, employees will be able to work more efficiently using mobile devices such as smartphones and tablets, and will contribute to smoother communications during emergencies.
About Cisco Meraki
It is a 100% cloud-managed IT solution. It can be managed and operated regardless of size and location, such as headquarters, offices and work from home, by connecting to the Internet. Wireless, (network) switching, security, SD-WAN, application analytics, terminal management, and security cameras are all centrally managed from the cloud.
About Cisco Webex Teams?
Cisco Webex Teams is a collaboration tool designed to help people and teams connect and collaborate anytime, anywhere. Seamlessly switch between multiple functions such as conferencing, messaging, files, whiteboard, calls, and sharing.
About Cisco DevNet
Cisco's engineering community provides the tools, resources, and code developers need to create innovative, network-ready solutions.