Buddycom to Begin Providing Free Services to 1,000 Medical Institutions that Provide Treatments to Combat the New Coronavirus.
Science Arts, Inc. has announced that Buddycom will provide free services to up to 1,000 healthcare organizations working on novel coronavirus treatments beginning April 8, 2020.
Real-time information sharing can also link medical facilities and lodging establishments that receive individuals with mild symptoms or those who are asymptomatic.In the heat of the 24-hour workday, we strive to make voice communication with Buddycom as efficient and trouble-free as possible.
Buddycome is a team-focused application that addresses field issues across industries, from railway, aviation, GMS, manufacturing to financial institutions.
The first of its kind in Japan, it provides futuristic team communications using voice and video, harnessing data shared and accumulated by users to create a global ecosystem across industries.
The recent outbreak of the new coronavirus pandemic has caused the medical community to be hard hit. To support the medical professionals who are doing the best to prevent infections from spreading and to provide medical care, we have decided to offer Buddycom for free to up to 1,000 users.
It also covers staff of cooperating local authorities and waiting areas for mildly ill or asymptomatic individuals (e.g. hotels and other accommodation). This means that even in remote areas, all parties can be connected in real time and a safe environment can be provided. ※1
Benefits of Buddycom implementation in the medical field include:
・Group calls that can be spoken like an intercom, so there is no need to be in close contact with anyone
・Ease of use; just press the button in the center of the application when you are ready to talk
・'Live cast,' video relay of equipment activity
・'Inter-company communication' links information not only between medical facilities, but between facilities throughout the region
・'Translation feature' for foreigner support
・Commercially available wired earphones, and other equipment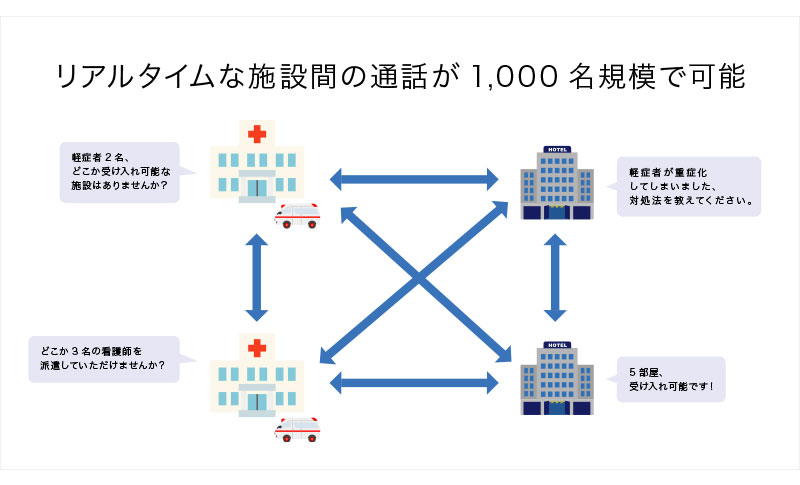 Number of Buddycom Listings: 1,000 users, total
Target institutions: Medical care, local governments, locations on stand-by for people with minor symptoms (hotels and other accommodations)
Regions: Nationwide
Free of charge period: From April 8, 2020 until the coronavirus response is considered to be under control.
Peripherals loan: Loans of peripherals such as headphones, microphones, and other can be discussed. Please feel free to contact us. ※2
We will continue to provide our products free of charge to healthcare facilities and lodging establishments to help prevent the spread of new coronavirus infections and ensure business continuity for companies and organizations that use our products.
The offer will be available until the new coronavirus is under control. Take advantage of this opportunity to try Buddycom.
To apply, use the link below.
※1 To cooperate, institutions must use Buddycom and link through ""intercompany- communication"".
※2 Commercially available wired headphones can be substituted.
Our deepest sympathies go out to all those affected by COVID-19.
The most important thing in overcoming this crisis is the disciplined observance of the rules of conduct and hygiene.
Let's maintain social distance and remain safe!